MedusaFest comes to Albany County on Saturday, May 3.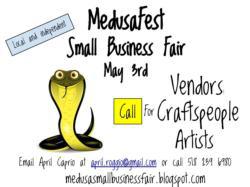 A little bit Maker movement, and little bit homegrown ingenuity, this year's MedusaFest will thrill, enthuse and inspire! Not only are we offering space for locals to display their wares, but we are hosting numerous talks, workshops, and hands-on activities! MedusaFest will also provide lots of entertainment – music, kid's activities and plenty of great Firehouse food, including their ever-popular chicken barbecue! As always, entrance is free, though donations are appreciated.
Medusa, NY, population 400, is located 10 miles southwest of Albany.
For event details click here.