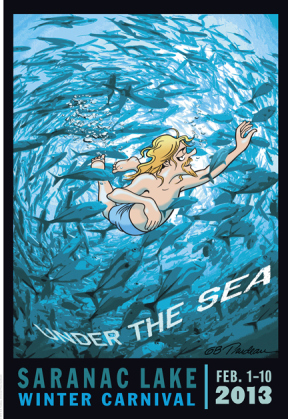 The 2013 for the Saranac Lake Winter Carnival is "Under the Sea", an ode to Disney's "The Little Mermaid."
Each year this great festival celebrates winter with ice sculptures a giant castle, fireworks, food and fun.
This year the Carnival has a special, new event called the Snow Ball Toss Tourney! The event will feature a single elimination tournament of two-person co-ed teams, composed of a woman and man, which will toss snow balls towards a bulls-eye target 60 feet away against another team, attempting to score points by landing the snowballs in a 5-gallon bucket or within two concentric circles around the bucket. Teams play to 21 in a format similar to horseshoes. Winning teams advance within their division bracket until an overall champion is determined.
This 10-day event has daily activities and entertainment for all. It kicks off Feb. 1 and gets into full swing with this host of activities on Feb. 2:
(Click for Full Schedule of Events)
SATURDAY, FEBRUARY 2
10 a.m.: Ice Palace Fun Run (4 miles) (Ice Palace)
10 a.m. – 4 p.m.: 20th Annual New York State Women, Inc. Chocolate Festival (Harrietstown Town Hall, $)
10 a.m. – 4 p.m.: Lutheran Church Women's Craft Sale (Harrietstown Town Hall, $)
11 a.m. – 2 p.m.: Petrova Winter Carnival (fun for kids) (Petrova Elementary School Cafeteria, $)
11 a.m.: The Curling Exhibition (Lake Flower near the Ice Palace)
11 a.m.: Paul Smith's College Woodsmen's Exhibition (Riverside Park)
12:30 p.m.: NBT Bank Ladies' Fry Pan Toss (Riverside Park, $) Competition Fry Pan supplied by Amanda's Village Motel, prizes supplied by Lodge Manufacturing
2:30 p.m.: "Hunt for the Trident" treasure hunt – follow the clues (Riverside Park, $) Sponsored by the Women's Civic Chamber
4:30-7:00 p.m.: Parent Faculty Organization Chicken & Biscuits Dinner* (Methodist Church, $) more details to follow
7:00 p.m. – Lighting Of Ice Palace, Guide Boat Realty Opening Fireworks Display
(State Boat Launch)
8:00 p.m.: Music – Joe Crookston (Bluseed Studios BluStage, $)*
9 p.m. – 2 a.m.: D J, Atlantic City trip giveaway (Captain Cook's)*
9:30 p.m.: Music – Hot Day at the Zoo & The Blind Owl Band (The Waterhole, $)* presented by Fiddler's Picnic & Upstate Live
10 p.m. – 2 a.m.: Karaoke (Romano's Saranac Lanes)*
Essentials
When: Feb. 1-10, 2013
Where: Saranac Lake, NY
Website: http://www.saranaclakewintercarnival.com/