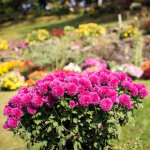 The Mum Festival weekend actually begins with the preceding Mum Bowl, the Saugerties High School football game, where the coronation of the Mum Queen and her Court takes place.  The following day, Sunday, the festival begins at Noon and runs to 5:00 PM.  It typically includes: 
The Mum Queen and her court presenting flowers courtesy of the Saugerties Society of Little Gardens
Live music (band and chorus)

Arts and crafts booths

Martial arts demonstrations

Face painting

Refreshments
So come wander Seamon Park's paths, take in its views, and visit the bandstands & fountains.  You'll perhaps never see as many "Kodak moments" as you will during your Mum Festival visit and any other visit to the park during the year.
And of course, the thousands of Mums that decorate Seamon Park for the Mum Festival will be available for viewing for the remainder of the fall.
This year will be the 46th annual Mum Festival, and the 102nd anniversary of Seamon Park.  A brief history – John Seamon generously donated the beautiful park to the Village of Saugerties in 1809.  The Mum Festival committee has decided to honor the park's special anniversary at this year's Mum Festival and will be celebrating with old time music, Campfire Girl exhibits, Wildlife shows, and other activities that highlight the park's 104-year history.
For festival details CLICK HERE