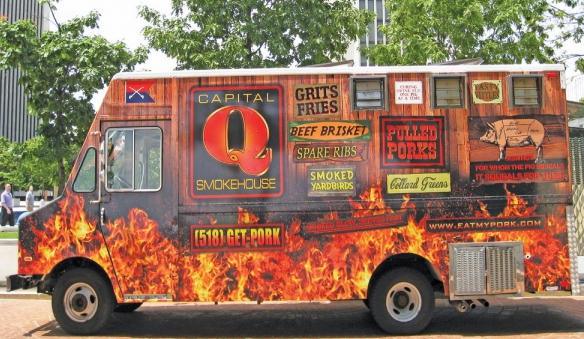 Have you ever eaten at a Food Truck?  Well, more and more people are and you can sample some of the Capital Region's best on May 4 in Saratoga Springs!
Besides the food trucks there will be kids' activities, live bands  and arts and crafts.
Get a full line up of the 10 trucks that will be there for your enjoyment by clicking below.
ESSENTIALS:
WHAT:  Food Truck Festival
WHEN: Sun, May 4, 2014 | 12:00 PM to 6:00 PM
WHERE: The Saratoga Eagles' Club, 373 Crescent Ave/ Saratoga Springs NY
10 local food trucks are kicking off their 2014 showcase season hosted annually by The Saratoga Eagles' Club!
Enjoy great food from:
Slidin'  Dirty
Eat Good Food
Fitzy's
Kona Ice
Pies-On Wheels
The Crisp Cannoli
Flavors of Lebanon
Merican Band Wagon
Capital Q Smokehouse
Plus beer and wine!
For More Information Call: 518-583-4654