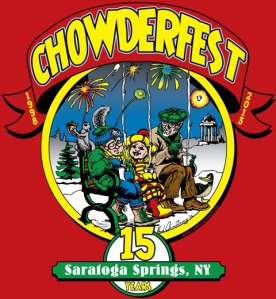 What's better on a cold winter's day than scarfing down some old-fashioned chowder? If you can't think of anything, then the Winter Weekend and Chowderfest in Saratoga Springs is for you.
Winter Weekend runs Feb 1-3, 2013, while Chowderfest is just Feb. 2.
Chowderfest costs just $10 and YOU get to be a judge for nearly 20 restaurants and chowder experts looking to claim the title. More information here.
2013 Vendors Are as Follows:
Bailey's Cafe
Bookmakers at Holiday Inn
Bread Basket Bakery
Cantina
Gaffney's Restaurant
Hattie's Restaurant
Inn at Saratoga
Izumi Asian Bistro & Lounge
Maestro's at the Van Dam
Nove Italian Restaurant
Olde Saratoga Brewing Company
Paddock Lounge
Parting Glass
Peabody's Sports Bar and Grille
Plum Dandy
Prime at Saratoga National Golf Club
Putnam's at Gideon Putnam Resort – serving from the City Center
The Stadium Cafe
West Side Stadium
It's all part of Saratoga's Winter Fest, which features live music, events, wine tasting and family fun in the snow.
Each year the festival draws crowds of people excited to attend the annual festival and the great events it brings to the Spa City. The weekend includes a Wine Tasting, Chowderfest and much more! There will be all kinds of fun and entertainment going on throughout the Spa City all weekend long.
Essentials
When: Feb. 1-3, 2013
Where: Saratoga Springs, NY
Cost: $10 Chowderfest; Winter Weekend FREE
Website: http://www.saratoga.com/chowderfest/