On Sunday October 13, from 10 am – 5pm, Hanford Mills Museum (East Meredith, NY) will hold the Miller's Harvest Festival & Folkways Fair, a day of hands-on history and fall fun.  At the Festival, you can enjoy activities such as a farmers' market, artisans demonstrating and selling traditional crafts, music and entertainment, and horse-drawn wagon rides.
The Festival includes kids' activities, like traditional children's games and making corn-husk dolls.  Visitors also can try shelling and grinding corn using our historic hand-operated equipment, and then feed the ground corn to chickens, on loan for the day from La Basse Cour Farm.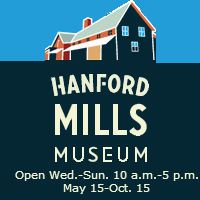 The Museum will be operating machinery in its 1869 Gristmill, which area farmers relied on for generations. The Munson Brothers Millstone, which the Museum connected to its horizontal water turbine in August, will be featured. Guided tours of the gristmill, sawmill and woodworking shop will be offered throughout the day.
ESSENTIALS:
WHAT: Millers Harvest Festival
WHERE: Hanford Mills Museum, E. Meredith, NY (Delaware County)
WHEN:  Sunday, October 13; 10 a.m. to 5 p.m.
WEBSITE:  http://www.hanfordmills.org/