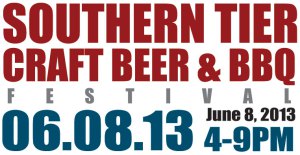 Saturday, June 8th The 4th Annual Southern Tier Craft Beer and BBQ Festival returns to Tag's from 4-9 p.m.
The Festival features a Brewers Exhibition and Tasting, Amateur BBQ Cook-off, Musical Performances, Live entertainment, Arts and Crafts Vendors and the Blessing of the Beers.
Amateur BBQers from all over the southern tier will head to Big Flats to vie for the coveted grand prize of $500, 2 season passes to the Summer Stage and a $50 gift card to Tag's Trash and Trinkets.
Those who want to sample the area's best brewers can enjoy an evening of taste testing!
The Brewers Exhibition Tent will hold a Craft Brewers Sampling Session from 5-8 p.m., which will offer patrons the opportunity to sample Craft Beers from among 15 regional breweries featuring over 80 brews.

Some of the Breweries that will be represented are: Harpoon, Sam Adams, Ithaca Beer Co, Sarnac, Wagner, Roosterfish, Horseheads Brewery, Yuengling, Keuka Brewing, Custom Brew Crafters and more to be announced soon.
Vendors and other area artisans will be on hand to sell their goods. Check it on June 8 in Big Flatts.
Essentials
When: June 8th from 4pm-9pm
Where: Big Flats, NY
Website: http://tagstickets.com/index.asp?pageId=15&pId=38