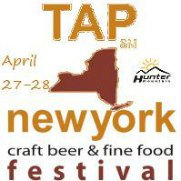 Going strong for 15 years, TAP New York is one of the state's best beer festivals. It is also the biggest in terms of number of brewers present at the festival.
The Festival Fanatics will be attending this two-day event and will, as always, give you the lowdown (if we're still standing).
It isn't all about the beer, which makes our mouths water even more. There's also food and fun for adults to enjoy throughout the weekend.
According to its website:
TAP New York is also about food. Each year we offer plenty to eat. Daily cooking demonstrations will also show you some great ideas for your own kitchen.

TAP is also a beer competition. Brewers from across the state enter their finest suds to compete for plaques and trophies. Each year on Saturday at TAPSM, highly qualified judges choose the best craft brewery in New York State and also the best brewery in the Hudson Valley. On Sunday, the panel of judges decide the best individual beers in both the Hudson Valley and the entire state.
Last year, 50 BREWERS attended TAP New York, giving guests an incredible selection of beers to choose from. This year's promises to be just as fun and exciting, and festival organizers are hoping for over 60 brewers to come out of the 87 invited.
Head on over to TAP New York's website for a full list of events, brewers, schedule of cooking demonstrations, photos and everything else you want to know about this awesome festival!
Essentials
When: April 27-28
Where: Hunter Mountain, NY
Cost: $60 per ticket
Website: http://www.tap-ny.com/