SNODEO, the rodeo with snowmobiles, comes to Old Forge on December 7-9, 2012!
This festival/rodeo/gathering has grown into a permanent winter fixture in Old Forge with an influx of loyal followers and snowmobile enthusiasts nationwide.
During the weekend, you will find there's so much to do for the entire family. From the vintage snowmobile show to the Kitty-Cat/120cc races and a special appearance by Santa & Mrs. Claus on Saturday afternoon.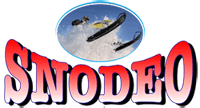 Trophies will be awarded in 17 different categories of vintage snowmobile. Best yet, the entire SNODEO is FREE and open to the public.
At the end of the event is the lauded raffle where your $20 ticket buys you a 1 in 1,200 chance of winning a brand-new 2013 model snowmobile from Polaris, Yamaha, Arctic Cat or Ski Doo.
SNODEO starts at 3 p.m. Dec. 7 and run through 2 p.m. Sunday. There are vendors and demo rides on snowmobiles.
Check the official SNODEO Old Forge website.
Essentials
Where: Old Forge, NY
When: Dec. 7-9
Website: http://visitmyadirondacks.com/snodeo.html