For more than forty years, Cooperstown has been the host village of one of Upstate's most popular inter events, the Cooperstown Winter Carnival.  An army of volunteers helps turn the "Village of Museums" into a winter wonderland of fun, food, community spirit and winter shenanigans!  And Festival Fanatic "Big Chuck" went to check it out this year!
Cooperstown is located in Central New York (Otsego County) and is usually pretty sleepy during the "off baseball" season.  But is hosts several thousand during carnival weekend.  The village lies on the southern tip of famous Otsego Lake.
Cooperstown's quaint Main Street is filled with every imaginable kind of baseball memorabilia and souvenir shop.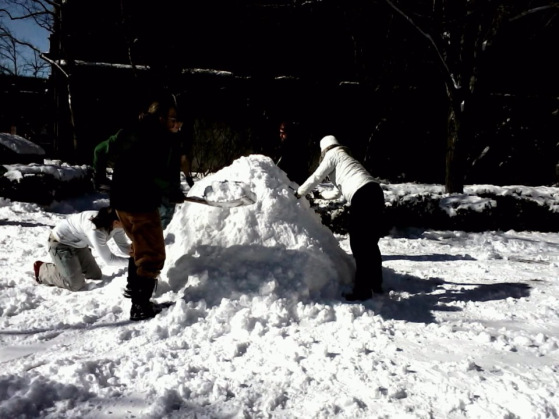 This year's theme was "The British Invasion."  One of the most popular events was a Beatles tribute band which gave a performance to a large crowd at the historic Otesaga Hotel, which is more than 100 years old.
One of the tastiest venues was the Cheesecake Sampling Table at the United Methodist Church on Chestnut Street.
Dozens of great cheesecakes were made or donated by the great chefs and businesses of Cooperstown.  And as a fundraiser…well it really brings in a substantial amount for the carnival!  And of course, Big Chuck had to have a hefty sampling of his own!
And like any good game show on TV, Big Chuck even got to go home with a parting gift!
This carnival was great fun.  And although you will probably sometime visit this little gem of a village during the baseball tourist season, it is wise to keep Cooperstown in mind when you are looking for a fun and fantastic time when the winter doldrums set in!