There are many festival of trees around the holiday season, and this is one of the best!
The Tioga County Historical Society (Owego) holds its annual "O Tannenbaum" fundraiser and gala event from now through December 15 this year.  The many trees glitter and shine inside this grand and historic building just off the downtown business district.
Wreaths, swags, decorations and fully decorated trees are the order of the day here!  At the end of the festival the trees are auctioned off to the highest bidder with the proceeds to benefit the operations of the museum.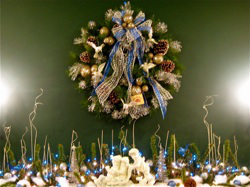 The museum is the repository of many wonderful historic items which highlight the history of this important Southern Tier locale.  From the Civil War to agriculture to entertainment and more you will be surprised at how much this region had (has) to offer.
And don't forget to look up!  The gold-gilted "fireman's chandelier" will take your breath away!
Essentials
When:  Through December 15
Time: Click on museum link for their varying hours
Where: Owego, N.Y.
Website: http://www.tiogahistory.org/Site/HOME.html
Hotels | Restaurants | Tourism